Who is Tammy?!?
Tammy Tolson is one of the volunteer memebers of Mountain View Rescue Squad (station where Medic 32 is located). Tammy is a Virginia certified EMT-Basic and rides with the Medic 32 crew on a regular basis. She became an EMT in 1984 and joined the Mountain View Volunteer Rescue Squad shortly after that.
Tammy's current "bill paying" job is as a dispatcher for Prince William County. Prior to being employed as a dispatcher she worked as a Customer Service Rep for Capital for Capital One from 1995-1998 and as a Stafford County Dispatcher from 1989-1995.
Needless to sayTammy likes to carry her camera around and take pictures. But, as much as Tammy likes to take pictures of others, she hates to have them taken of her.
---
First attempt at taking a picture of Tammy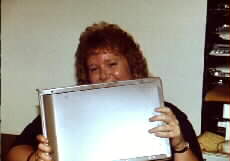 (See, getting a picture of Tammy IS hard!!!)
---
After MUCH talk and convincing, Tammy finaly let us get a picture of her in her sunglasses. Wonder if she wears them at night?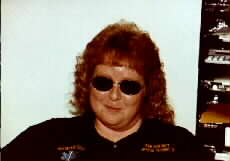 ---

©1998
Updated 06/01/1999