Tammy's Picture Page
Click here to see who is Tammy and what does she have to do with the Crew of Medic 32.
---
Tammy has fun taking pictures of people on duty and around the station. Tammy takes pictures when you least expect it!! Here are some of her pictures for you to look at.

Mark, Captain 9-1-1,
Garret, and Eric


Gabe and a couple of
Station 4 Juniors
(Mary & Boby Jean)
Dan & Garret Shaving their heads.
EMT Class Photos

An Arm Injury



Some facial
trauma.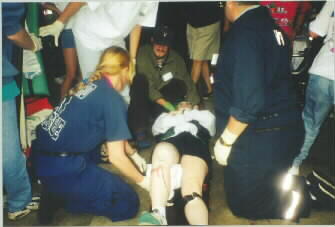 Here is the EMT-B class hard at work on one of the moulaged patients.
---
©2000
Updated 02/11/2000