These are the exterior modifications I've made: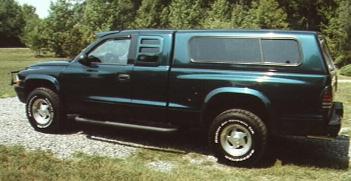 Removed all of the factory Dakota Sport graphics and the dealer label.

Added Ram Line "Nerf"/Step Bars. These were originally black. After the "Nerf" bars kept getting chipped up by stones, I had them Line-X'd. It turned out really well and so far I've been very pleased with the decision to Line-X them.

Added Ram Line front Brush and Grille Guard. These bars have had Line-X applied to them too. You know, had to keep all the bars looking the same.

Added Hidden Hitch class III receiver trailer hitch

Upgraded factory wheel size (15x7 rims with P235-75R15 all season tires) by adding Boyd's 15x8 rims and B.F. Goodrich All-Terrain 31 x 10.50 tires. Well, at about 80,000 miles, I experienced some problems with an air leake from the rim itself. So, the Boyd's rims are no longer on the truck. I replaced them with black Cragar Soft 8 rims and am currently running Dayton Timberline 31x10.50 tires.

Installed factory fender well flares (available as an option but not on my truck). If you are going to upgrade the tire size, I recommend that you add the fender flares to help keep the dirt, mud, and gravel off of the side of your truck.

Ventvisors

Aeroshade louvered side window covers

Slotted tail light covers (sorry I don't remember the brand)

Century fiberglass truck cap

Stuff Added:
Screen Front to grille
Sun visor



Applied to truck bed, "Nerf" bars, and front brush and grille guard.
(Click on logo for link to Line-X)

To see more pictures of the exterior modifications done click here.

---
Where did it all come from?
The cap, hitch, ventvisors, Lund screen front for grille,and Ram Line accessory bars came from Ashland Hitch, in Ashland, VA. Phone: (804)798-3071. They have really good prices!! So, give them a try and tell Tim that Garret sent you.

All of the Lund stuff came from
They are apparently no longer in business.

The Line-X applications were done by Virginia Line-X, 7205-D Route 17, Yorktown, VA. Phone: (757)877-2328. Ask for Kevin Koehnke and tell him Garret sent you.

---

Back to the Dakota Main Page
©2007
Updated 05/28/07