---
Thursday, April 20 7:00PM--Maunday Thursday Service
"Words from The Cross"
Dr. Fred Skaggs will deliver the message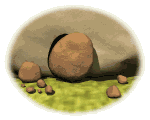 Easter Sunday

Bethany Baptist Church will host a community Sunrise Service at 7:00AM
Rev. Andrew Bullock will deliver the message.
8:30AM worship service is cancelled.

Sunday School will start at 09:45AM and end at 10:30AM.


The traditional worship service will begin at 10:45AM.
The musical/drama "Power of His Touch" will be presented.
---

©2000
Updated April 17, 2000